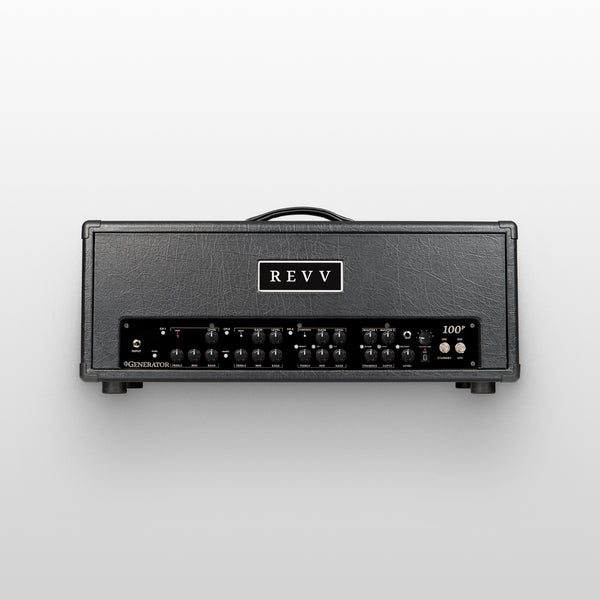 Razor-Sharp High Gain Definition For The Modern Guitarist.
Buy Revv Generator 100P MK3 here!
The Revv Amplification Generator 100P MK3 is for modern rock & metal guitarists who need their creativity & workflow to be seamless between stage, studio, & home.
MK3 means the world's first stereo-direct-output reactive load & impulse response tube amps. Not only does this bring you 3 channels of all-tube finely-tuned boutique Canadian tone based on feedback from world-class touring artists, session guitarists, & audio engineers - it also features Two notes Audio Engineering Torpedo-embedded DynIR Virtual Cabinet technology for going direct to FOH, studio monitors, or headphones. No cabinet required.
But it doesn't stop there! A state-of-the-art noisegate & lush reverb are built right in! All accompanied by a host of switching & voicing updates to make getting the sound in your head faster than ever.
Revv Amplification is committed to bringing you the most complete amplifier experience available. Clarity, feel, & tone - for stage, studio, & home.

3 Channels - This tube amp takes your tone from the most brutal high gain aggression to touch-sensitive Nashville clean & crunch.
Made in Canada - Revv Amplification builds to the highest durability & quality standards in Winnipeg, Canada.
Two notes Audio Engineering Stereo Torpedo-embedded - Stereo XLR-out Two notes Audio Engineering reactive load & DynIR Virtual Cabinets, mics, reverb, Twin Tracker doubler, EQ, & more!
Noise Gate & Reverb - State-of-the-art noise gate & lush reverb (both fully bypassable) make pedals optional!
Revv's Trademark Gain - The Purple Channel is famous for its clarity - now keep that same note definition with even more low end & gain on tap.
No compromise Cleans - 3 new Green crunch channel drive voices & a new Blue clean channel wide switch fine-tune your sound & feel. Now with independent EQ!
100% Tube - All-tube tone using relays for switching. The analog tube amp experience you know & love, with the added benefit of Two notes Audio Engineering stereo direct XLR out DynIR Virtual Cabinets & impulse responses for cabless recording & performance.
Fully Controllable - With or without MIDI, you can control channels, voicings, master volumes, & more as well as recall your favorite presets. Two notes Audio Engineering settings editable via Bluetooth.
Includes footswitch & dust cover.
[Pictured as a stock Black Taurus tolex amplifier. Please see swatch image for optional upgrade tolex colors. Please note these are just swatches to give a brief idea of what your amp will look like.  Email us with any custom tolex questions.]
[APPROXIMATE ~1 month build time]
Buy Revv Generator 100P MK3 now. Or learn more here. Or check out some demos on the Revv Amplification YouTube channel.
--
FEATURES
-All tube design - 4 – 12AX7 , 4 – 6L6GC
-3 Channels: Clean, Crunch and high gain
-3 band EQ per channel
-Signature Wide, Drive, and Aggression switches
-Bright switch on all channels
-Cut switch on both overdrive channels allows for brighter distortion or a deeper/scooped type of distortion by shifting mid range frequencies
-Fat switch on both overdrive channels to thicken your high gain tones
-Built in digital reverb
-Built in noise gate
-Dual master volume controls
-Presence and depth controls
-Two notes Torpedo-embedded Virtual Cabinet selector
-Headphone output jack
-Two notes editable via Bluetooth
-Illuminated color changing acrylic badge
-LED lighting for control verification
-MIDI capabilities as well as CC control of all functions and OMNI functionality for easy MIDI programming control
-Foot switch included with regular switching duties (channels, wide, drive, aggression levels, FX loop, masters and mute) plus patch mode which saves your favorite amplifier settings to one of the 6 banks
-Cabinet lighting port to illuminate speaker cabinet badge
-Transparent serial effects loop
-4, 8, 16 ohm output impedance speaker output jacks
-Internal load (automatically engages when no cabinet is detected)
-Power scaling from 120w down to 10w
-Ground lift switch
-Two notes Torpedo-embedded Stereo XLR Outputs
-Rear Bias test points with easily accessed adjustments for each power tube pair as well as tube fault indication
-Birch head shell
-Dimensions: 26.5" × 10" × 10.5"
-Weight: 46 lbs
-Handcrafted in Canada with high quality standards of both sound and build
-5-Year limited warranty
-International Voltages Available: 100V, 120V, 220V, 230V, 240V